Manini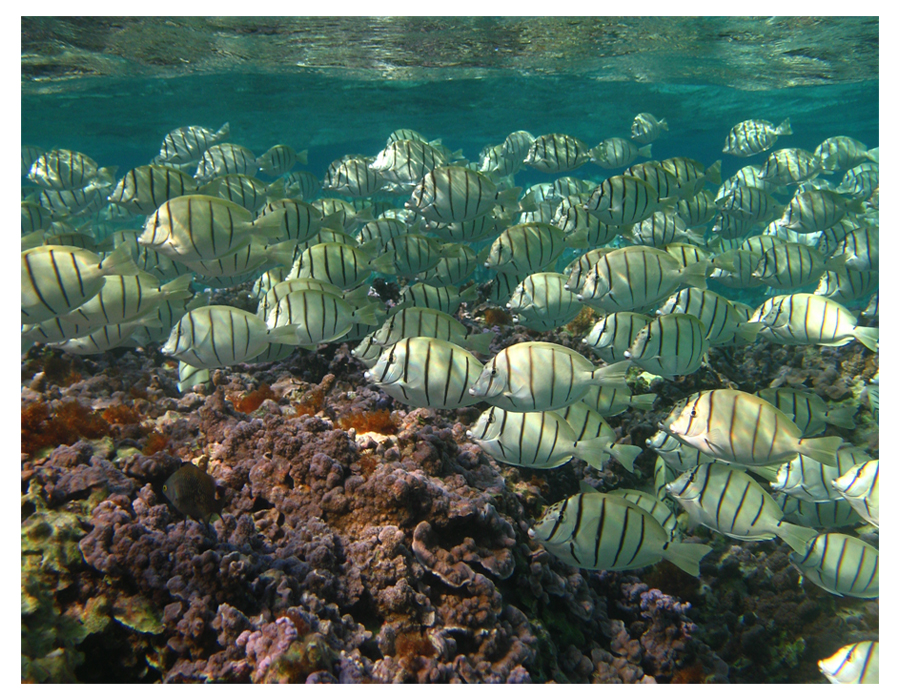 " Ka i'a a ke kualau i lawe mai ai "
The fish brought in by the rain at sea.
The manini spawn during the summer months.
They were said to comeafter a shower at sea by the millions.
('Ōlelo No'eau)
Manini are found along most shorelines in Hawai'i. Their young are often found in tidepools and at the waters edge. Manini are light greenish in color with 6 black stripes running down its body. It is sometimes mistaken for kūpipi or mamo which have similar stripes along the body.
Manini are often seen in large schools grazing on the reef. If you ever get the opportunity to see them graze, look for other territorial fish trying to scare them away. They are also a sight to see while traveling in great numbers, resembling a parade making its way along the the reef.
Manini are a favorite fish of our kūpuna caught in traps, nets, and by spearing. They were salted immediately after being taken from the water preventing (i moe kākala) the dorsal fin from becoming stuck in an upright position.
Manini reproduction is tied to whales. It is said that the hupe koholā or whale snot provides a safe environment for the eggs to hatch. Some believe the hupe refers to the whale birthing sac and others believe it may be the skin constantly shed by whales which have a slimy consistancy. These sacs are found along the shoreline in early morning, before day break, filled and surrounded by 'ōhua. People would gather at this time, scooping up the transparent 'ōhua, and drying them with some salt.