Mauna Kea, Waiau and Sacred Landscapes of our Ancestral Memories
Commentary for a Service Learning Project by students in Papa Kuku'ena (Hawaiian Lifestyles 130)
at Hawai'i Community College in Hilo with Kumu Taupōuri Tangarō, Fall 2008
Haumāna: Gail Makuakāne-Lundin, Joleen Loke Alderdyce, Myhraliza Aala, Trina Nahm-Mijo, and Drew Kapp
In our hula class, we are learning hula and chants in honor of 'Emalani, or Queen Emma. As our Service Learning Project, we made a huaka'i to Mauna Kea and Waiau and shared some of our knowledge about 'Emalani's spiritual journey to the mountain with others while we were there. We would like to share with you a little bit about our experience, followed by our research on other sacred mountains and lakes that are part of each of our ancestral landscape memory.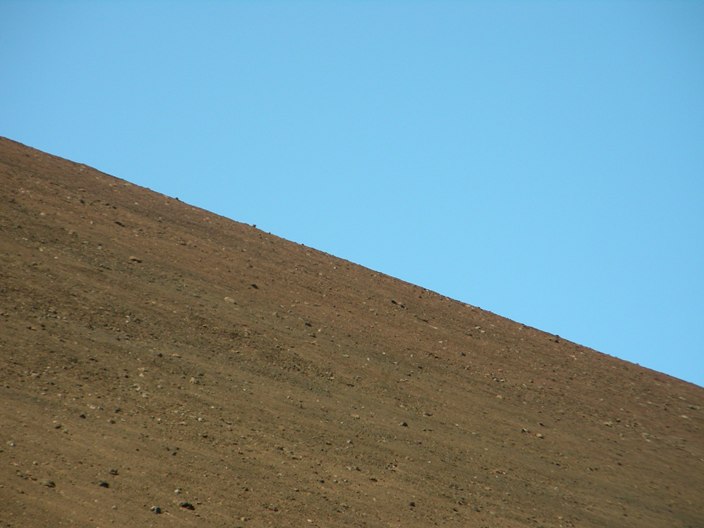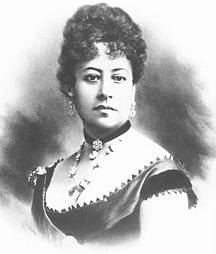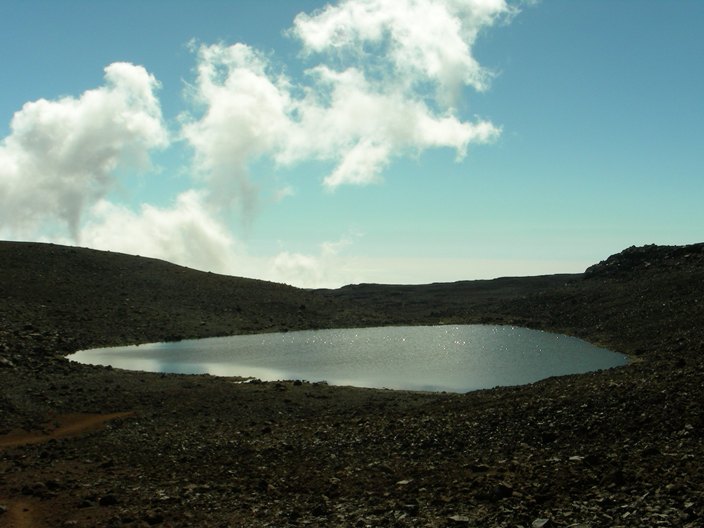 Introduction
By Gail Makuakāne-Lundin
Mauna Kea, kuahiwi ku ha'o i ka mālie, Mauna Kea, standing alone in the calm…. (2147:'Olelo No'eau)
Wahi pana storied or sacred places held mana or spiritual powers for the Hawaiian people. The most revered and respected places were the highest points of lands—mauna or mountains, where nā akua the gods dwelled and where heiau or shrines were erected and consecrated. For native Hawaiians, place provided both spiritual and cultural connections. Mauna Kea as the highest portal to the Hawaiian Universe is the pillar of Hawaiian consciousness. Mauna Kea as the mountain altar of Wākea, the celestial father and progenitor of the Hawaiian race is the ancestral and cultural connection of the Hawaiian people to the mountain.
A Maunakea 'o Kalani
'Ike maka iā Waiau
Kēlā wai kamaha'o
I ka piko o ke kuahiwi
Huli ho'i mai 'o Kalani
I ke ala kāpekepeke
A he ala nihinihi ia
A hiki a i ka mole
Ui a'e nei 'o Kalani
"E 'uleu mai 'oukou"
"He ihona loa ana ia"
"A hiki i Wahinekea"
'Emalani nō he inoa
Ke ali'i 'a'e kuahiwi.

The Royal One was at Mauna Kea
To see the lake Waiau
That amazing body of water
At the very peak of the mountain
The Royal One turned to come back
Along that unwieldy path
And it's a narrow, treacherous trail
All the way down to the base
And the Royal One offered encouragement
"Be lively, all of you"
"It will be a very long descent"
"to reach Wahinekea"
For Emmalani indeed,
a name song for the chiefess who traverses the mountains.

Source: Nogelmeier, Pua. (2001) He Lei No 'Emalani. Bishop Museum: Honolulu
Hawaiian ali'i in particular, traveled to wahi pana because they were places that pulsed with energy. Visits to these wahi pana allowed them to embody the pulse of these sites --- spiritual reconnection, rebirth, and rejuvenation. 'Emalani journeyed to Mauna Kea in 1881 following the death of her son Albert Kamehameha and husband King Alexander Liholiho Kamehameha IV. Her māka'ika'i as described in the chant, A Mauna Kea O Kalani-The Royal One was at Mauna Kea and discloses a ritual where 'Emalani ascends her ancestral mountain, experiences physical and spiritual healing and rebirth in Wai'au, and is now ready to make her steep descent into the "mole" or to the taproot of her ancestry. Her destination is a place named Wahinekea or White-women, a metaphorical description of her gained enlightenment. It is postulated that 'Emalani's journey was dual in that, like the taproot of a tree, the depth of the taproot determines the height of a tree, to arrive at the depth of her potential required that she ascend simultaneous to the height of her universe, Mauna Kea (Source: www.maunakeacmp.com/about#mkok and http://hccp.ksbe.edu/kaleinamanu/8-amaunakea.php).
Image above of Emalani: http://hccp.ksbe.edu/graphics/kaleinamanu/Emma216.jpg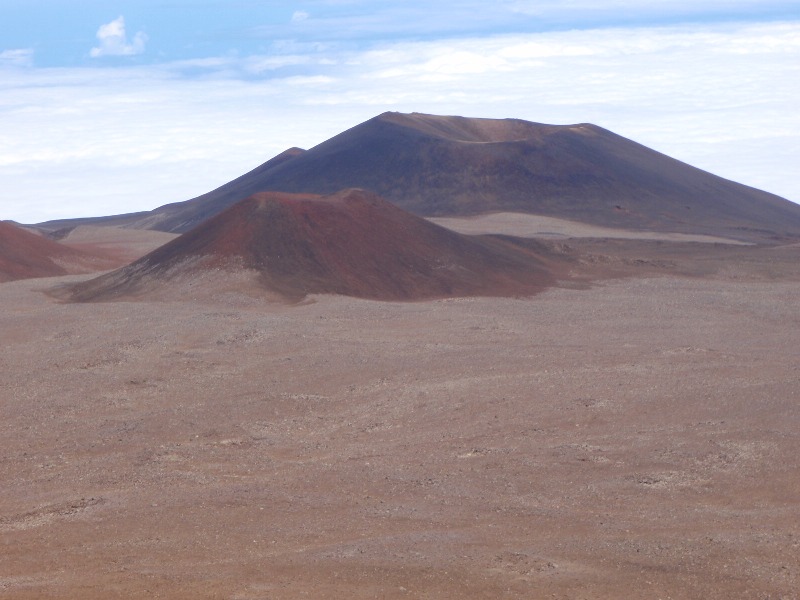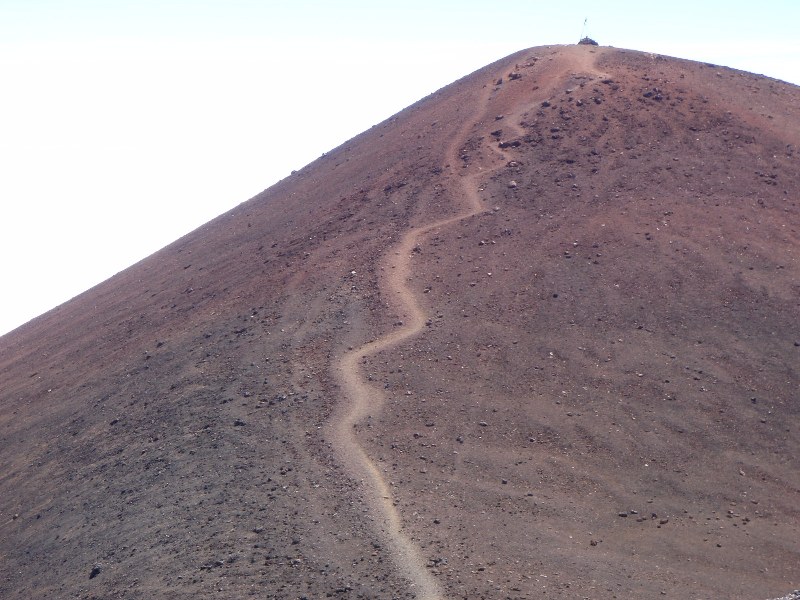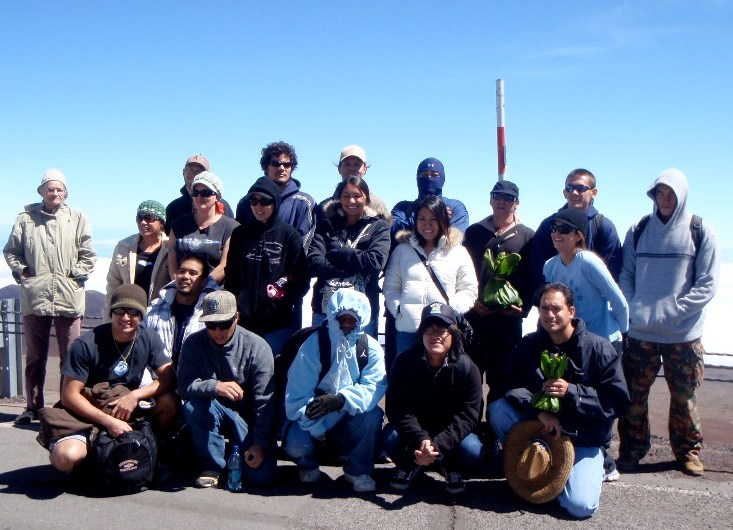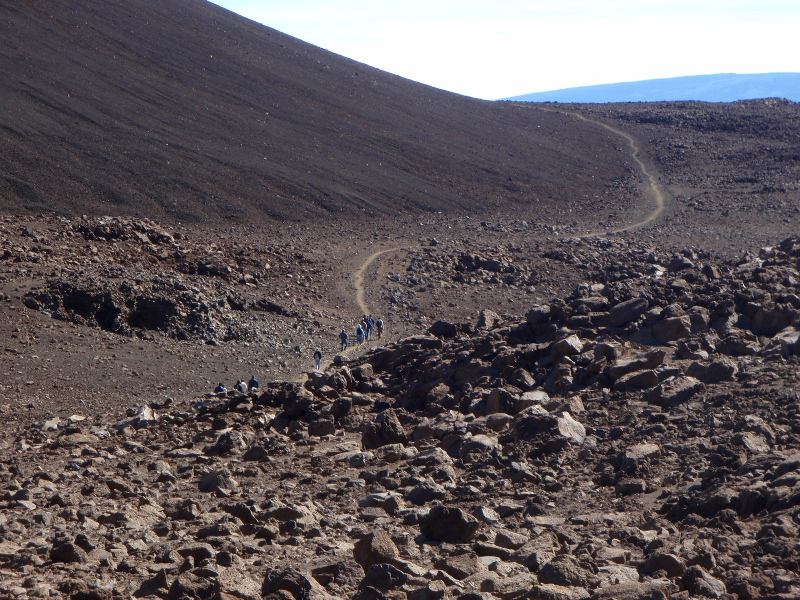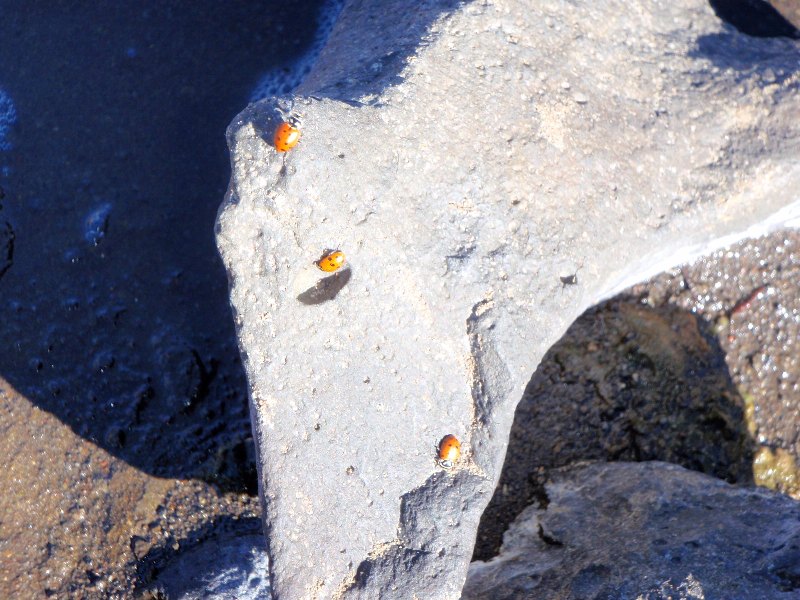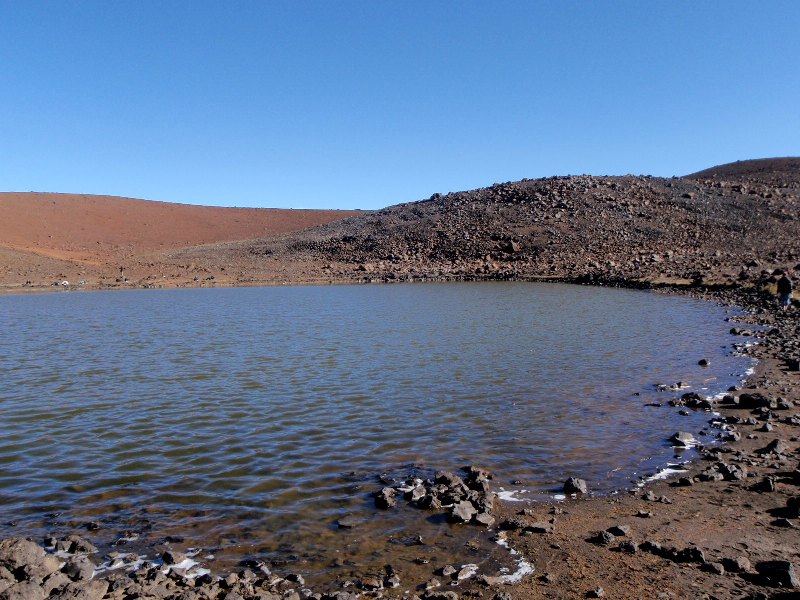 Our Huaka'i to Mauna Kea… and Sacred Landscapes of our Ancestral Memories
Gail Makuakāne-Lundin
Although I have made many journeys to Mauna Kea and Waiau, this journey was particularly special because of having learned the chant, He Lei No 'Emalani.
I came to Mauna Kea…'Ike maka iā Waiau—to see lake Wai'au, calm and serene;
I climbed the steep pathway....I ka piko o ke kuahiwi-at the very peak of the mountain-Kukahau'ula;
I continued… I ke ala kāpekepeke-along that unwieldy path, to a journey and destination unknown.
Lata Mountain in Samoa
I first visited Samoa in 1987 and immediately felt connected and comfortable. Many of the Samoan people whom I became acquainted with over the years, encouraged me to go to Manu'a saying it is the place where all of their people come from. In January of this year, I had a chance to visit the island of Ta'u, one of three islands in Manu'a. As you approach the island, appearing to rise straight out of the Pacific Ocean is cloud covered Lata Mountain, the highest peak in American Samoa.
In the Solo 'o Va, the Samoan Story of Creation (http://www.samoa.co.uk/creation.html), Tagaloalagi descends from the heavens and Manu'a is the first lands he creates—Ta'u being the first island within Manu'a, followed by Ofu , then Fiji, Tonga, and the rest of the Samoan islands-Savai'i, Upolu, and Tutuila. Hence, is it believed that Manu'a was the beginning of everything, the earth home of Tagaloa and the spiritual center of the Samoan islands where he created the first humans and sent them out to Polynesia, celebrated the first 'ava ceremony, established the Tui Manu'a tele ma Samoa atoa line of sacred high chiefs, and built the first Samoan fale on the highest peak, Lata Mountain called "the abode of Tagaloa.: The fale built was called fale'ula or 'red house', and was originally the "abode of the gods on earth" and later became the house of the Tui Manu'a chiefs.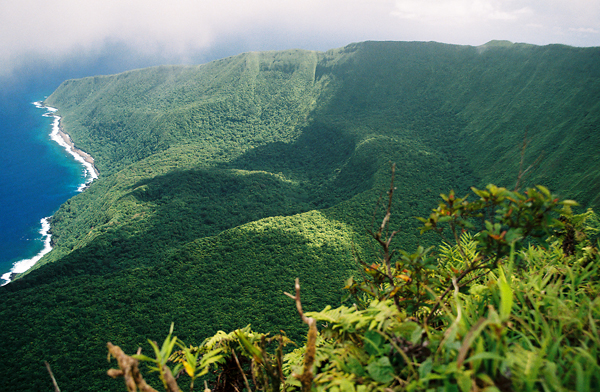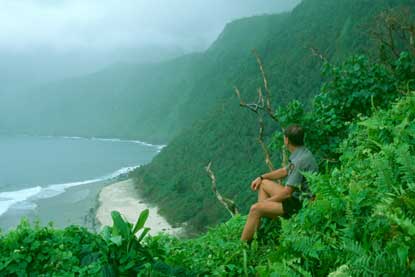 A Samoan legend speaks about Lata being a canoe builder who comes from Fiji, visits Upolu and builds two large canoes at Fagaloa. He builds a double canoe at Tafagafaga on the island of Ta'u off Manu'a and sails to Savai'i, where a southwestern district is called Lata after his name. Two hills on this island are called "the double canoe of Lata." From Savai'i he sails to Tonga and dies there and from him the Tongans learn to make the one-sided deckhouse after the Manu'a pattern, called fale fa'amanu'a. "Steersmen in the canoe of Lata" (Seu i le va'a o Lata) is a title still heard in Samoa.
Images from:
http://www.nps.gov/npsa/tauunit.htm
http://www.geonames.org/5881372/lata-mountain.html

http://www.whoi.edu/sbl/image.do?id=60835&litesiteid=20473&articleId=30848
Joleen 'Loke' Alderdyce
The dictionary defines the word 'pilgrimage' as being a journey, especially a long one, made to some sacred place as a quest or act of devotion. In truth, this is what our huaka'i to Pu'u Kukahau'ula and Lake Waiau was for me. As a non-Hawaiian local born and raised on the big island, my own ethnicity has faded in light of the Hawaiian culture that has surrounded my life. As I have learned and grown, the Hawaiian culture has taken precedence in my life and I identify with it more than any other. In our hula kuku'ena class this semester we learned a lot about Queen Emmalani, especially her pilgrimage to Mauna Kea. When we decided to reenact her journey for our student learning project, I had no idea of the spiritual and cultural significance that it would have for me. Though I had previously learned about the sacredness of the balance between male and female energies in Hawaiian culture, never have I had the opportunity to feel, in the depths of my soul, the very powerful presence of these energies as I felt when I was faced with the most supreme examples of these energies that Hawai'i holds. Though I was there with others associated with the university on what could seem to outsiders as a simple academic excursion, all normalcy and contemporary ideas fell away as we trudged, exerting ourselves along the high altitude trails. At Pu'u Kukahau'ula I felt blessed to be able to find myself at the highest point in all of Polynesia, the closest I could possibly get to Wakea. When we came to the ridge that hid Lake Waiau from view the afternoon sun lit our way with golden light, and I felt that I was being allowed to glimpse a secret. As I sat near the water I enjoyed the dance of the rays of sunlight on the surface, and felt the idea of progeny gaining importance in my soul. I felt the intensity of the blessing and obligation that comes with being a woman, the bearer of life. And finally, as we made our descent, I felt as if miles had been trod beneath my feet, and a contented exhaustion came over me. It was almost a feeling of supreme peace, as if I had finally become one with my island home that I know and love. I will always be extremely grateful for this opportunity to pilgrimage to the absolute piko of our culture! Mahalo nui loa!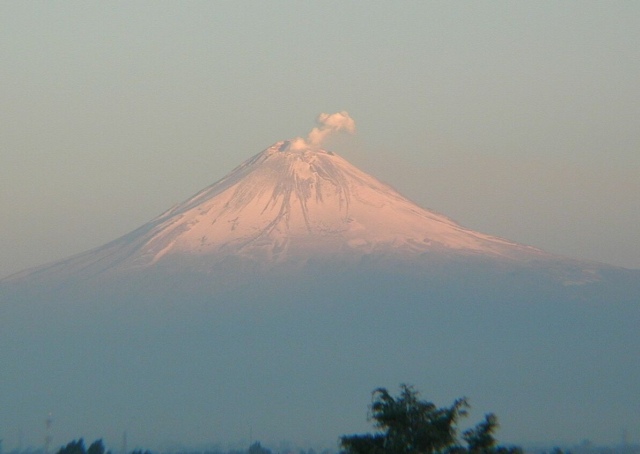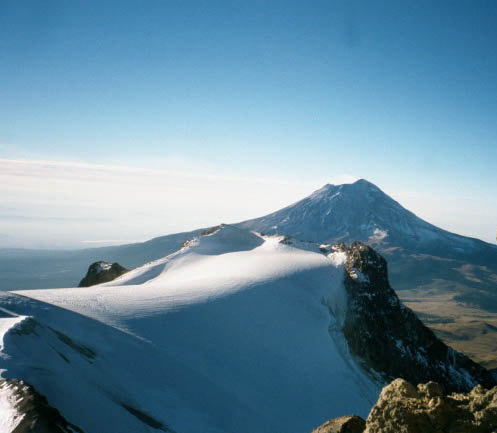 Popocatepetl and Iztaccihautl of Mexico
If I was to look to my ethnicity instead of the culture of my life, I would find myself in the culture of the native peoples of Mexico. Forty-five miles southeast of the old Aztec capital of Tenochititlan and Mexico City stand the two great sacred mountains of Popocatepetl and Iztaccihuatl. At 17, 833 ft the volcano of Popocatepetl is currently dormant, though it does frequently emit large clouds of smoke. Iztaccihuatl rises to 17,388 ft and is classified as an extinct volcano. In Nahuatl, the Aztec Language, Popocatepetl means "Smoking Mountain", and Iztaccihuatl means "Sleeping Lady" or "White Lady". They were so named after a romantic Aztec legend from pre-conquest times. According to the legend, Popocatepetl was a great warrior in love with the beautiful maiden Iztaccihuatl who was the daughter of a tribal king. They asked the king to be married, and he said that he would agree only if Popocatepetl would go to battle and emerge victorious. Popocatepetl did indeed emerge victorious from battle, but he was unable to return to Iztaccihuatl immediately. A rival suitor of Iztaccihuatl maliciously spread a rumor that Popocatepetl had died, and as a result Iztaccihuatl soon died of a broken heart. When Popocatepetl returned he laid her body atop the mountain, which has ever since held the shape of a sleeping woman. Popocatepetl was so overcome with grief himself that he could not move on, and climbed to the adjacent mountain top and stood sentinel with a smoking torch in order to forever watch over his love. As high as 12,000 ft on both peaks numerous shrine ruins have been found, which show that the mountains once served important religious functions for the Aztecs and perhaps earlier cultures as well. As my mother is of pure Mexican heritage and hails from an area not far from Mexico city, I would also like to make a pilgrimage to these mountains in the future. In this way I will be able to revere my ancestors who lived before me, as I have revered the culture that has shaped my life.
Source:
http://www.worldreviewer.com/experiences/sacred/mt-iztaccihuatl-and-mt-popocatepetl/56175/
Images:
http://www.sil.org/~tuggyd/Pix/pix.htm
http://www.arcadelamor.org/storytellingmonk/p_ref/p_holy_sights/p_mountains/p_ixtaccihuatl_popocatepetl.htm
Myhraliza Aala
A Mauna Kea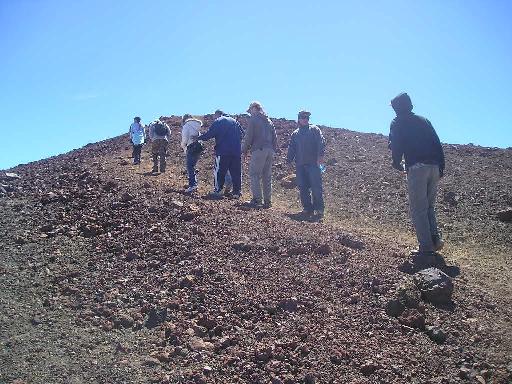 I ka piko o ke kuahiwi
Huli ho'i mai 'o Kalani
At the very peak of the mountain
The Royal One turned to come back
On my journey to Mauna Kea
I was reminded of a mountain where I was born…
Davao City, Philippines is the place
Where Mount Apo stands strong
As does Mauna Kea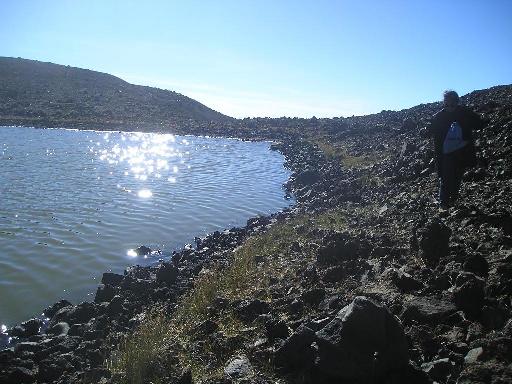 A Maunakea 'o Kalani
'Ike maka ia Waiau
The Royal One was at Maunakea
To see the lake, Waiau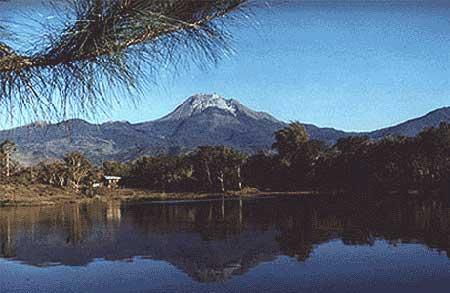 Mount Apo is considered the grandfather
of all Philippine mountains
Hidden in the mountain vastness
Sits Lake Venado
Where the water is crystal clear and ice cold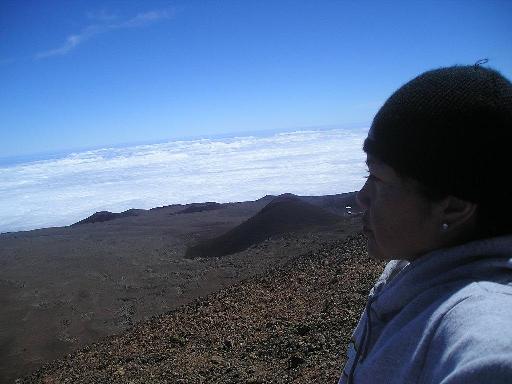 Ui a'e nei 'o Kalani
"E 'uleu mai 'oukou"
And the Royal One offered encouragement
"Be Lively, all of you"
At the top of Mauna Kea, above the clouds
I asked for her spirit and her strength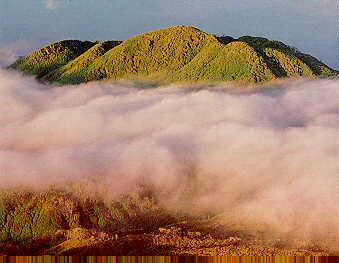 I have not climbed Mount Apo myself
But have only been able to look up
At its vastness and beauty.
Realizing what home really means -
To know one's strength
Is to know where one comes from
And where the connection
To the heavens are earth are met
Though I trekked Mauna Kea
With colleagues and friends
It was my own personal journey
That connected my home of the Philippines
To that of Emmalani's journey
To find herself.
And where I have found myself.
Images of Mount Apo:
www.philtourism.gov.ph/bigimages/rmp_apo.jpg
www.cotabatoprov.gov.ph/images/slide0011_imag
http://www.google.com/imgres?imgurl=http://www.malapascua.de/Volcanoe-Map/Vulkan_APO/a_Mount-Apo-3.jpg&imgrefurl=http://www.malapascua.de/Volcanoe-Map/Vulkan_APO/hauptteil_vulkan_apo.html&h=412&w=579&sz=34&tbnid=jTiwBBx8_WoJ::&tbnh=95&tbnw=134&prev=/images%3Fq%3DMount%2BApo&usg=__hey40xQqNoAoudE8QO5raCUmdqE=&sa=X&oi=image_result&resnum=2&ct=image&cd=1
Trina Nahm-Mijo
Mountain, Lake, Spirit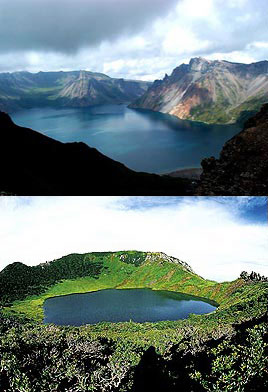 I: Hallasan
About thirteen years ago, I returned to the land of my Abaji's * Ancestors
The Land of the Morning Calm
Sojourning to its most southern point, Cheju Island, I climbed the tallest
Mountain in South Korea—Hallasan
It is said that Cheju is Hallasan and Hallansan is Cheju
Standing tall and proud, it can be seen from any point on the island
Covered with clouds--
At its zenith, in its womb, a crater lake, Baengnokdam "white deer lake"
Myth says that otherworldly men descend from Heaven to play with the white deer
II: Baekdusan
In my mind's eye, I travel to the highest mountain in the land of my Omoni's** Ancestors—
Baekdusan "white headed mountain" perpetually white mountain
Juts proudly on the border of North Korea and China
Located in the mountain caldera is "Heaven Lake"
Myth says that Baekdusan is sacred and the birthplace of the Korean people
III: Mauna Kea
On the eighteenth day of the tenth month of 2008
I journeyed along the twisted path (pekepeke) to Mauna Kea
The tallest mountain from sea floor to summit
There at "Lake Waiau" believed to be the entrance to the underworld
I encountered Goddess of the Mists, Lilinoe—
She attached to my back and sat atop of my shoulders and
Insisted that I carry her out to the world of humans
The weight of her spirit was so heavy, my legs almost buckled
At the edge of the entrance to the area
I beseeched her to return to the Lake
The world of humans is not for those of spirit
She left my body reluctantly . . .
And granted me one wish since I had allowed her a short ride
He inoa no Mauna Kea
*Abaji – Father
**Omoni - Mother
Image from: http://asck.org/baekduhalla.html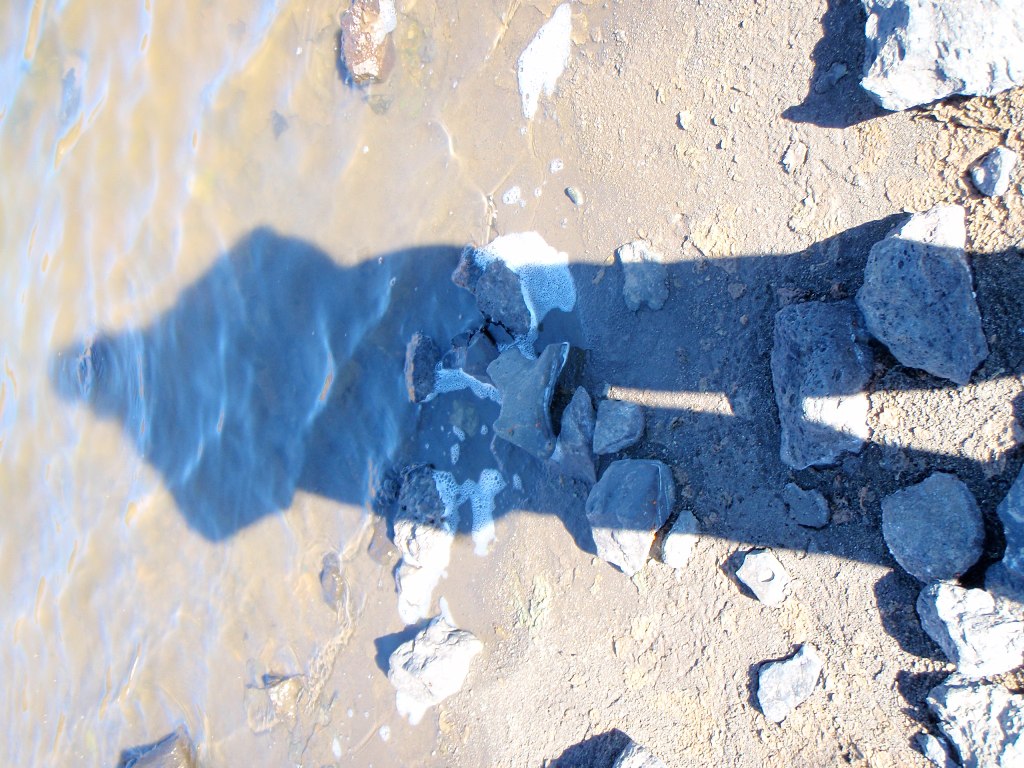 Drew Kapp
A Maunakea kākou
A week before the first mantle of snow covered the shoulders of Mauna a Wākea, we paid a reverent visit to the summit of this mountain. I was inspired by three things: we were learning a hula that speaks of Queen Emma's multiply-inspired ascent to the Maunakea and Waiau, kēlā wai kamaha'o i ka piko o ke kuahiwi; I wished to underscore the significance of the area to students in Geography classes of mine and a colleague; and I wanted to make an experience available to people of this island that may not be replicated if a stadium-sized telescope – larger than Mokuola - is built there near the summit, something which would adversely and irrevocably alter the spirit of that place. It was the third time I had the privilege of ascending to the top of that mountain in a year; each time was a different experience.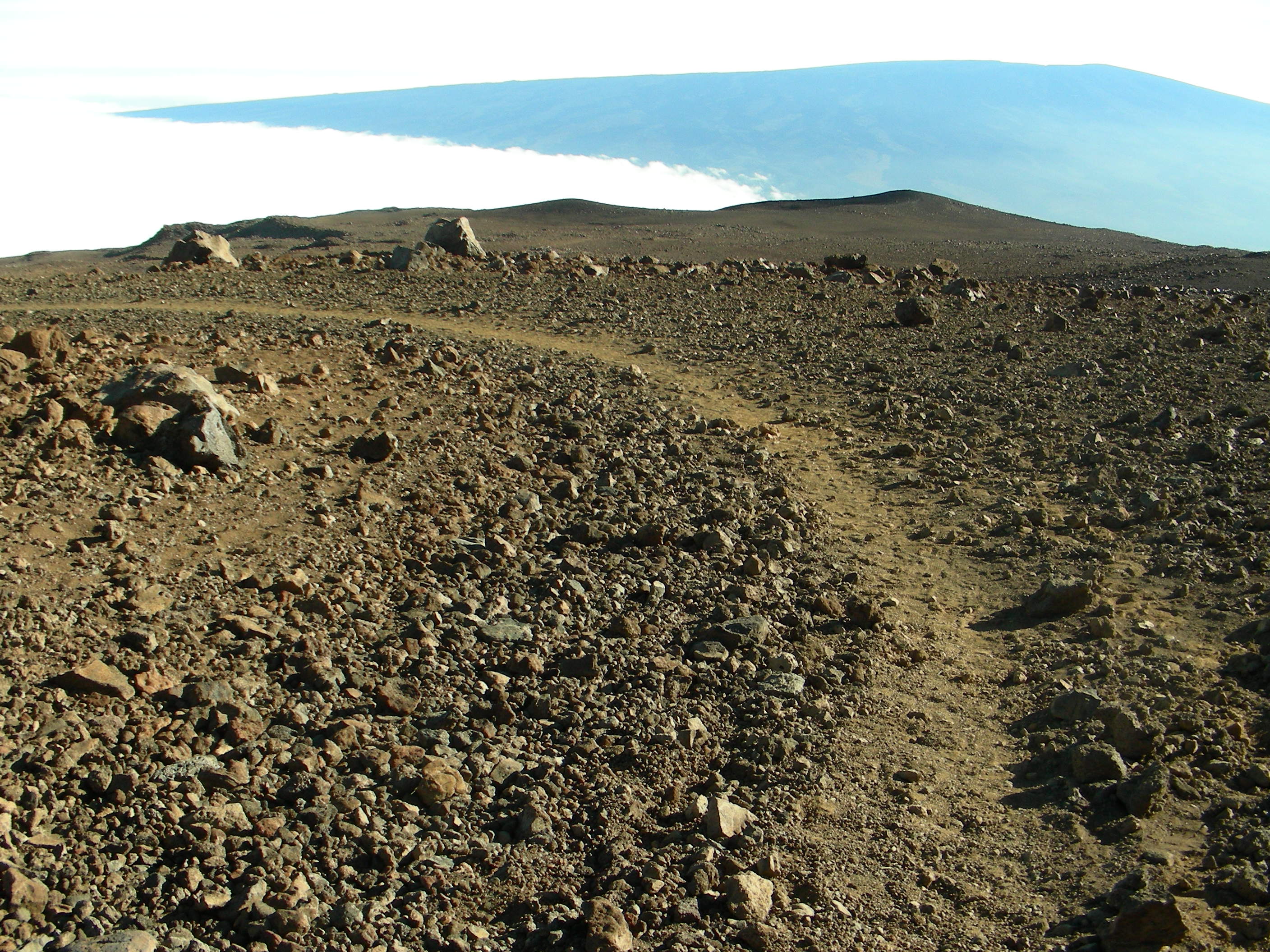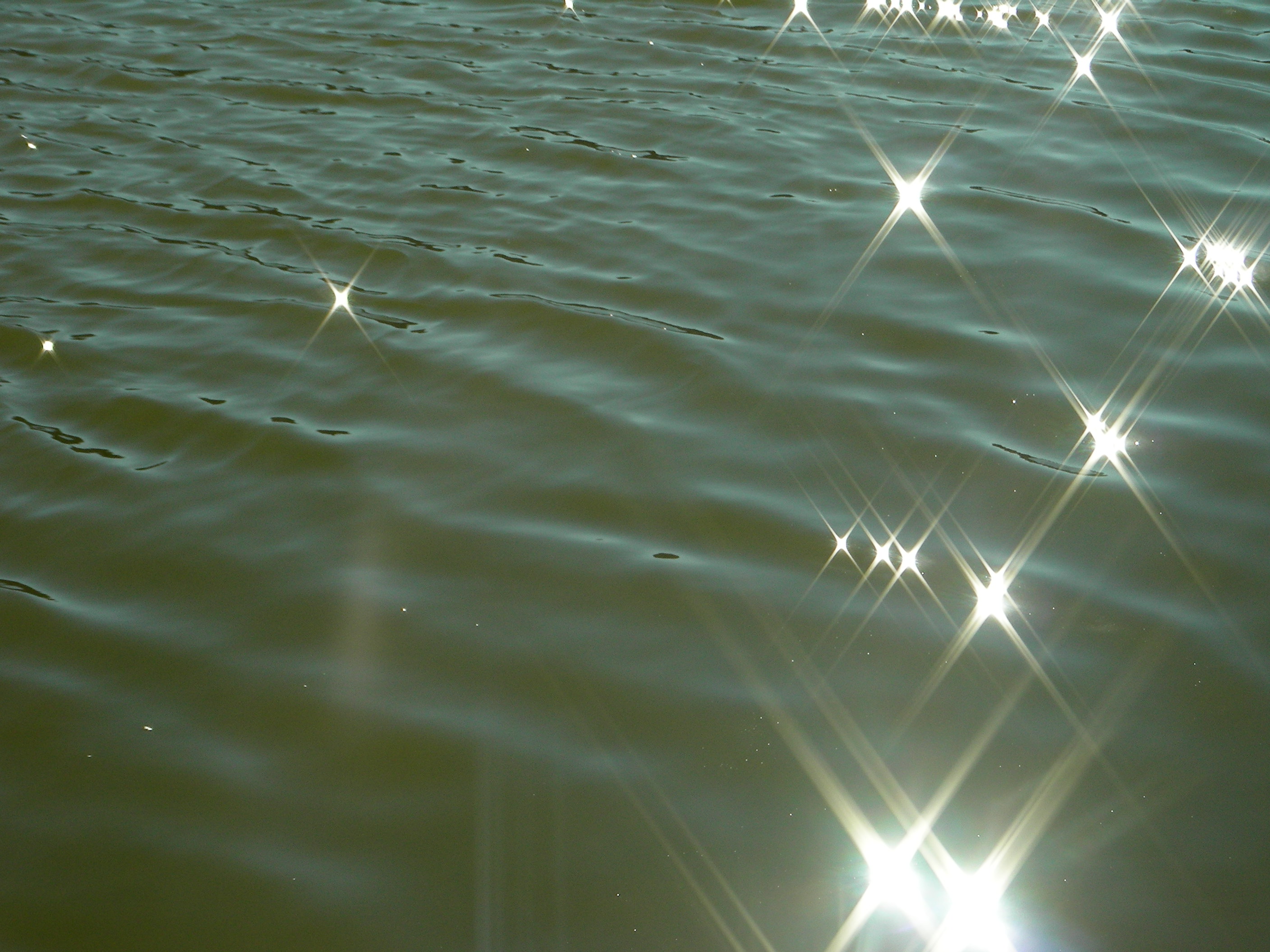 Once near the summit region, we silently picked our way up the steep face of Pu'u Kūkahau'ula, providing support to each other as necessary. Each step a breath, a collective breath put out there to mingle with the breath of the mountain. Once atop the pu'u, we, like spokes of a wheel around the lele, meditated on the landscape that surrounded us. As I usually do, I situated myself facing the rising mass of Maunaloa, with Kīlauea smoldering just behind her. Silence was our language, and respect was paid. After descending the pu'u, we eventually made our way across a gradually sloping landscape ornamented with rock fragments and gravel of a burnt color into the triangular dip that gently and nobly holds Waiau. There sparkled the lake in the lowering sun, this water that is a repository. We made our huaka'i, and each of us was changed in small and profound ways.
Karpaty (Carpathian Mountains) of Ukraine
One hundred years ago my maternal ancestors crossed an ocean – the Atlantic – to find a new home. They had lived in the northern foothills of the Carpathian Mountains, known as Karpaty, in Eastern Europe. Their former communities now lie at the current border between Ukraine and Poland. It is also a place where the mountain range is at its thinnest, at a kind of hinge between an east-west trending range that separates Poland from its southern neighbors, and a sector of the mountains that heads southeasternward into Transylvania in Romania. The Carpathians represent a sort of linear 'kipuka' in that densely-populated and agriculturally- and industrially-developed part of Europe, in that the mountains host forests of rare tree and plant species, alpine meadows amid stony peaks, and abundant wildlife. It is a place where bear, wolves, bison, owls, and rare birds still thrive within forests of beech and pine. It is also a place where 'folk' cultures survive into the 21st century. Depending on one's perspective, the heart of the Carpathians is the geographic center of Europe.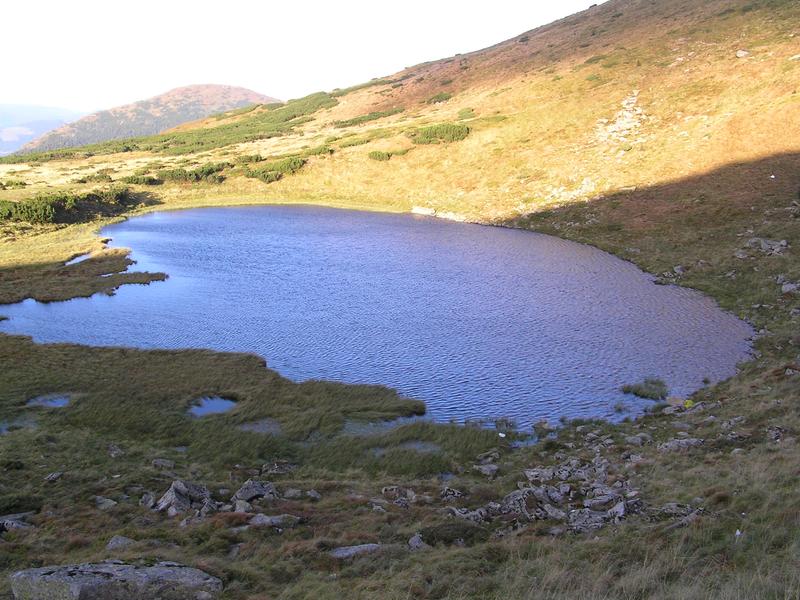 I've never been to that particular part of Europe before, but intend to one day in the near future. I grew up in New England (also a topographically rugged or undulating landscape covered largely with forest and a somewhat distinct culture) in the northeastern United States, and have lived the last third of my life in Hawai'i. I now live on the broad, wet slopes of Kilauea Volcano, not far from the summit and its famous crater, home of Pele and her 'ohana. I actually live in a place that was traditionally not one for human habitation or casual visitation; with time, we people have begun to develop and reside in neighborhoods in the wao akua, the abode of the gods. I spend much time in sacred places in the Hawaiian Islands, and always recognize the ways in which locations and what, in geography, we call 'natural features' are imbued with that sacredness.
I conducted some preliminary research in an attempt to learn more about sacred geographies of the Carpathians, the mountains that rose above the villages of my ancestors. And this is what I found…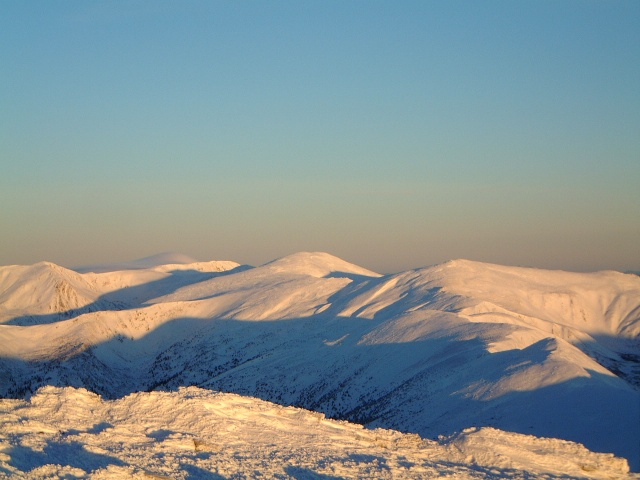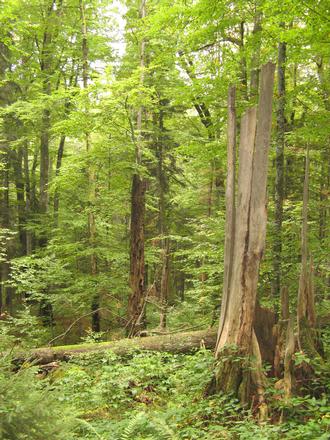 The natural elements found in the Carpathians have had utilitarian, cultural and spiritual value. The plants and herbs that grow there are famous for their medicinal qualities. Knowledgeable botanical healers, known as molfars, gather plants from the mountainscape, often employing a strict regimen with regards to what time of day and season plants would be gathered. Molfars also use chant, as well as music created by playing a small instrument known as a drymba in the healing process. In fact, molfars of the Carpathians have talents that reach beyond healing. They are sometimes elevated to the level of demigods, and at the very least, have an intimate and loving relationship with all components of the natural world, from earth to water, fire to forest, and all of the animal and plants life of the Carpathian environment. They have the ability to shape-shift, and can take the form of an animal, as well. Molfars are also able to control the weather, calling upon storms or clear skies.
The Carpathians are full of other fascinating and legendary residents. In addition to the notorious vampires and werewolves of some parts of the mountain range, some say that Carpathia is a land of bisytsyas, beautiful ethereal women who, through song, lure men to their demise. In some areas chuhaisters live, forest creatures of both human and animal qualities who protect people from evil spirits. It is clear that within this area of black mountains and deep green forests and meadows, spiritual forces swirl, ones that are part of the natural landscape, ones that give life, and others that take it away, in a mystical cycle.
Ancient Slavic cosmology is based on symbols drawn from the natural world. According to some sources, a tree represents this cosmology: the canopy serves as the realm of gods of the heavens; the trunk is the realm of humanity, and the roots, apparently, a beautiful and verdant place, is the realm of the dead. In the world of humans, festivals were (and still are) timed with the seasons and processes that occurred - some dedicated to the god of vegetation and fertility, others to a new and young sun god, for instance. Other Slavic deities include Perun, the god of thunder, and Veles, the god of water and earth, who is also the protector of shepherds, a traditional occupation in Carpathia. When such gods engage in battle, fierce storms occur. On a more local level, Slavs traditionally worshipped spirits of the rivers and of nature, in general. Sacrifices upon altars were part of the religious landscape of the Slavs, as well. Today, in many Carpathian communities we find wooden Eastern Orthodox churches sometimes with iconographic decorations that are unique form and construction. It seems that it is still possible to find the remains of 'pagan' temples in the Carpathians still today.
Although I was not able to find much about the significance of specific natural features – mountains, lakes, for example – in the Carpathians, I did discover that the area sometimes known as Hutsulshchya, not far from my ancestors' villages, was a cultural kīpuka for traditional, even 'pagan,' ways of life and spiritual perspectives. There are numerous alpine lakes – or "mountain eyes" - in Carpathia, and it appears that water in these lakes has properties that can energize and grant life. I found that there is a lake named Nesamovyte near a Carpathian mountain called Turkul that is known for a gathering place for people of supernatural powers. There is also a legend that suggests that as some lakes attract visitors, they can "swallow up everyone who is tempted by the shine of their sparkling waves." The tallest mountain of Ukrainian Carpathians, Hoverla, is a mountain that many national leaders and others ascend, including President Yushchenko. He climbs the mountain each year, and began doing so after being poisoned in 2004. This mountain must represent a significant site for restoring health and cultural pride.
The Carpathians stand out in the Eastern European landscape as a realm of spirits and people with special powers, a place where we find traditional practices that are no longer commonplace in the urbanized, Christianized Europe that surrounds them. As I conducted this preliminary research, which I wish to continue and refine, I have been constantly reminded of some parallels between the spiritual significance of these mountains and natural features in Hawai'i and elsewhere. Mountains are so often sacred places, sanctuaries, destinations for pilgrimages, cultural kīpuka' and places where secrets are best kept.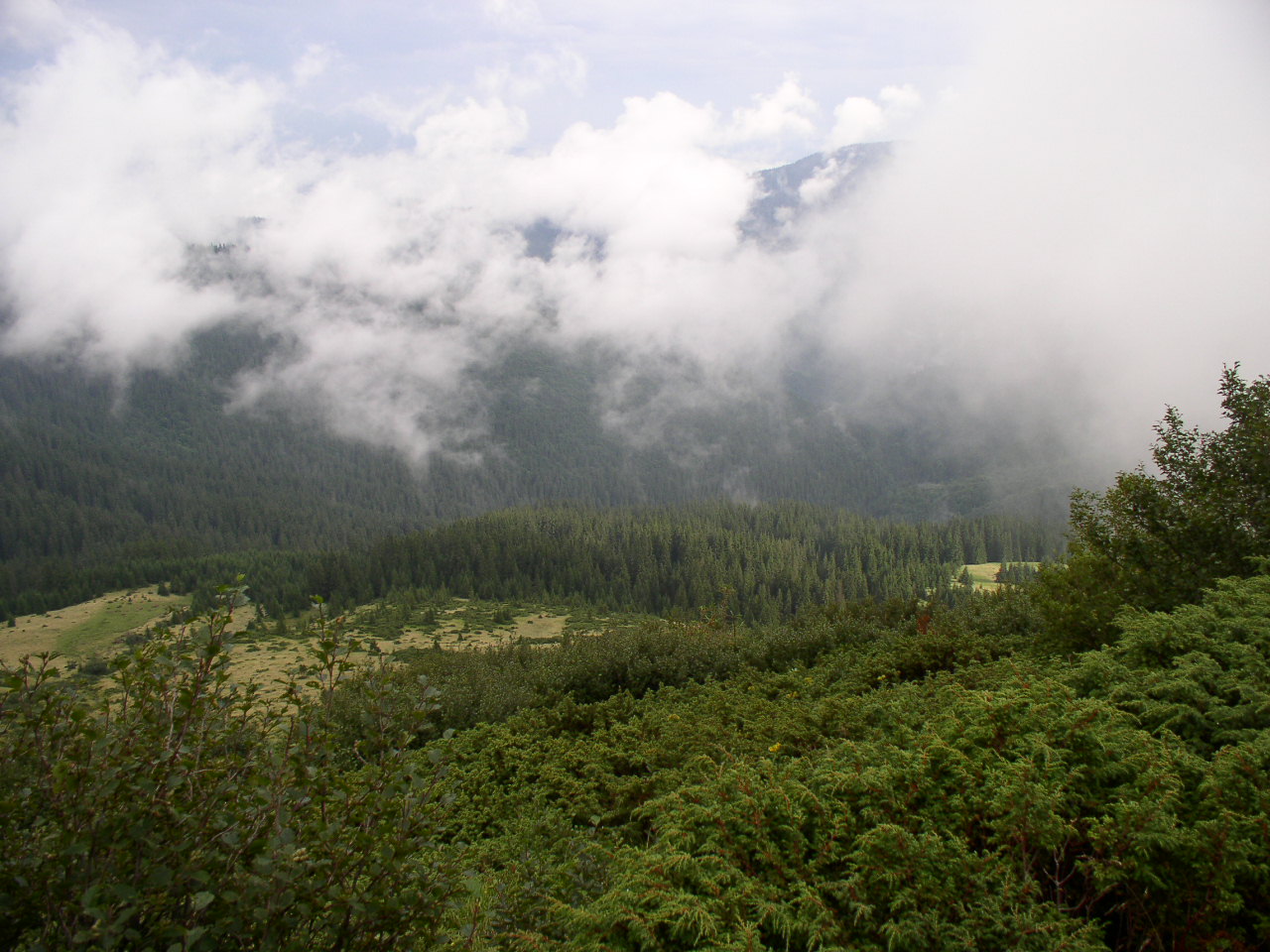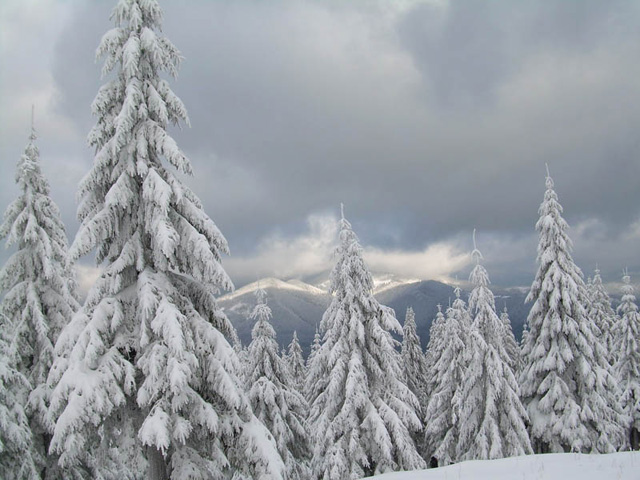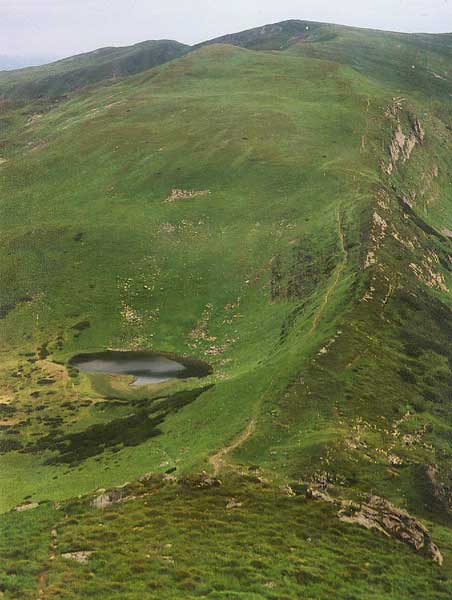 Sources:

http://all.zakarpattya.net/eng/begin.html

http://mandry.ua/?var=2&lang=2&d_id=54&id=201

http://en.wikipedia.org/wiki/Divisions_of_the_Carpathians

http://www.carpathians.pl/carpathians01.html

http://www.wumag.kiev.ua/wumag_old/archiv/1_99/carpatian.htm

http://www.kosivart.com/eng/index.cfm/do/hutsuliya.main/

http://www.wumag.kiev.ua/index2.php?param=pgs20034/100

http://www.peakware.com/areas.html?a=329

http://www.iabsi.com/gen/public/settlements/east_carpathian_biosphere_reserv.htm

http://www.lemko.org/maps100/index.html

http://www.tourism-carpathian.com.ua/

Images from:


http://zhehar.tripod.com/carpathians.html

http://pics.livejournal.com/roman_f/

http://upload.wikimedia.org/wikipedia/commons/7/72/Ukraine-Carpathian_Mountains-Chornohora_Range-10.jpg

http://www.twip.org/

http://whc.unesco.org/

http://www.panoramio.com/

http://www.mountain.ru/world_mounts/western_europe/2003/karpaty/


Page last updated January 7, 2009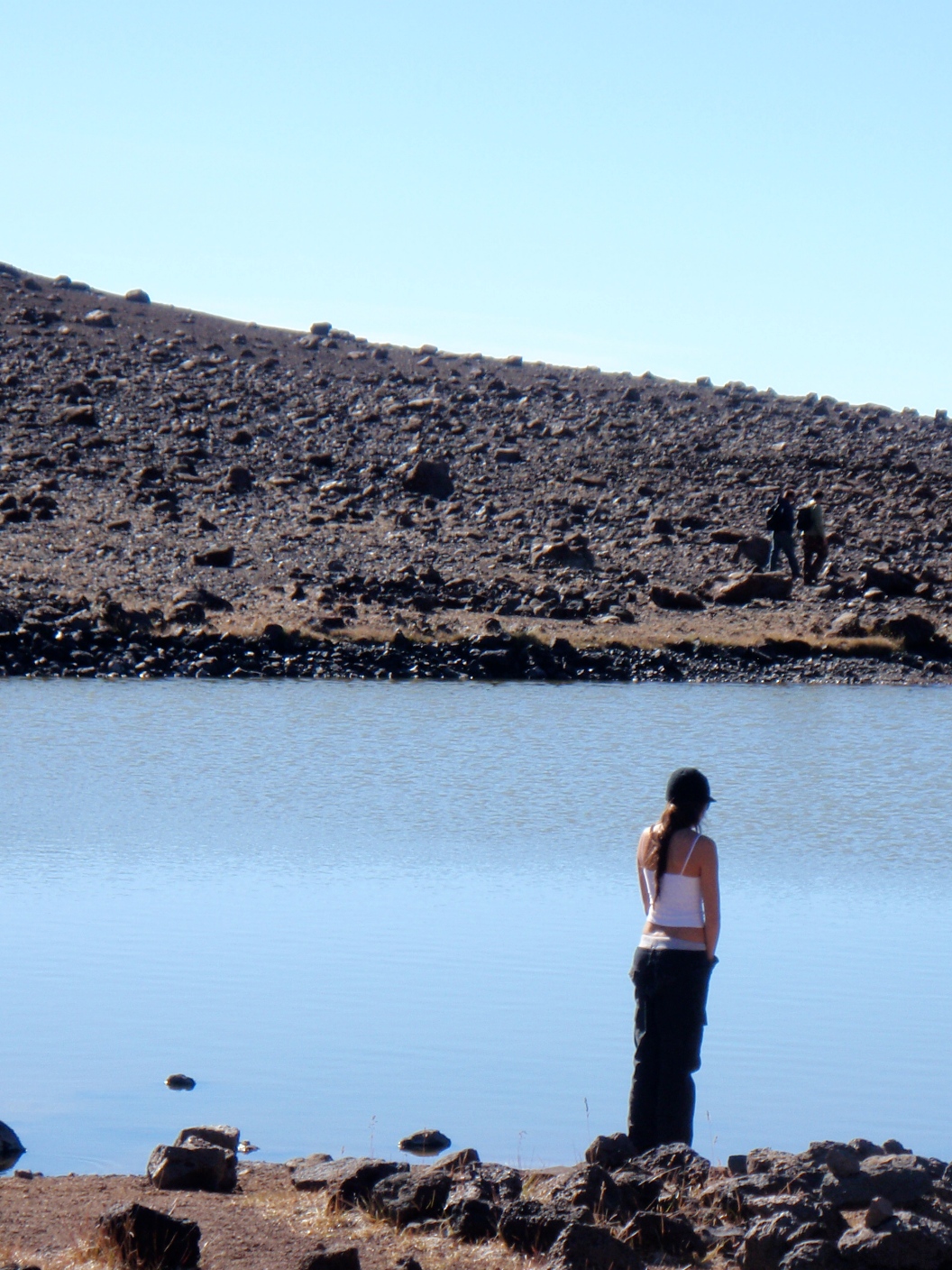 We invite your comments about your own ancestral connections to sacred mountains and lakes. Please contact Drew Kapp (dkapp@hawaii.edu) or Gail Makuakane-Lundin (gailml@hawaii.edu) to share information that could be added to this website. Mahalo.